Why Should I Create a Video Podcast?
Video podcasts make a lot of sense. Whether you're starting out or already creating an audio podcast, consider a video podcast. It's great for the podcast, but even better for promoting it.
By Chantel Guertin, Ghost Bureau partner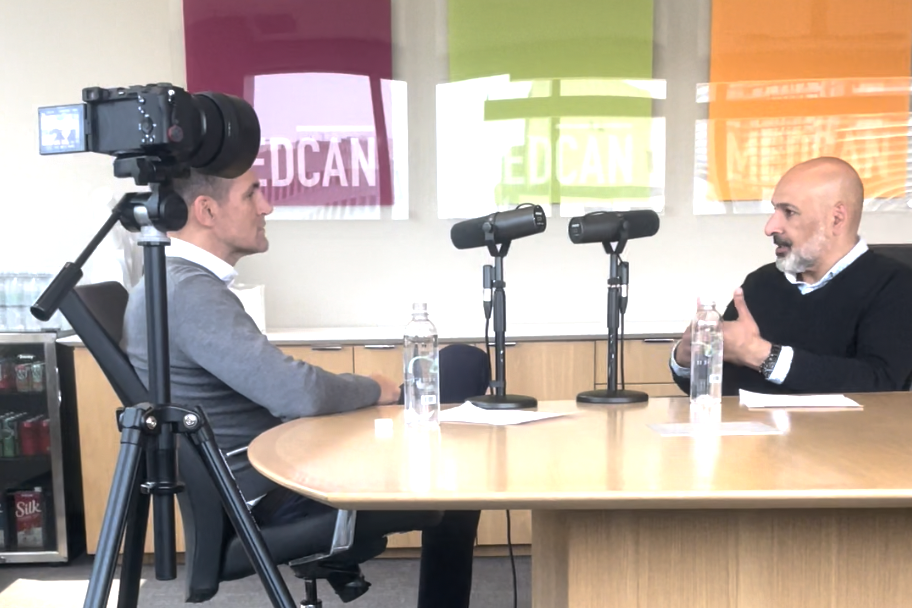 Whenever possible, we encourage our clients to create a video podcast rather than audio-only. While this may seem like an unnecessary extra (podcasts are for listening, you're probably thinking), there are some real benefits to filming your podcast episodes.
Podcast Audiences Love YouTube
Research by Morning Consult showed that 46% of podcast listeners prefer video podcasts compared with 42% who'd rather listen without video. And there's no question that YouTube is a dominant force on the interwebs—according to Forbes, YouTube is the number one sharing platform for podcasts.
Video podcasts allow listeners to see facial expressions and reactions from hosts and guests. Video helps build a connection between host and listener, too. Think of the familiarity you've developed just by listening to the voice of your favourite podcast host—now imagine that bond intensified because you know what they look like, too.
Video Makes Great Social Media Content
Few people will find your podcast without promotion—and LinkedIn, Instagram, TikTok or Facebook are all great social media platforms to share news of a new episode. Video footage of the podcast recording allows you to create social media assets to promote the podcast episode. Here's a recent social media asset we created for our client, Medcan, to promote, on LinkedIn, an Eat Move Think podcast episode about women's health.
We can also create reels suitable for Instagram, like the clip we created on winter wellness for Episode 142 of Eat Move Think, which garnered more than 8.2K views. Or Episode 136 of Eat Move Think, about chronic pain, which garnered more than 21K views. Without video footage of the guest or host, you can still create a static social media post, but it's unlikely to be as engaging.
Still not convinced?
Even though the benefits of filming video in addition to audio make a lot of sense, you may feel that it's still not worth the extra time, cost, and effort. But the reality is that if you're already recording a podcast, you've gotten most of the hard work out of the way. The real time investment is creating the content for the episode—and you've already done that when writing, planning, and scheduling the episode.
Need help? We love working with podcasters to help them take turn their audio-only podcast into a dynamic video podcast. And we also love starting from scratch. Have a germ of an idea you think might make a good podcast? We'll help you brainstorm everything from concept to execution—and then do all the heavy lifting to get that podcast out to audiences (and build those audiences, too!).
Email hello@ghostbureau.com to chat about your idea.